Welcome to the GOLD STANDARD for Luxury Skincare
R I C H  S K I N® is a Black Woman owned, Luxury Lifestyle Skincare Brand focused on enhancing one's quality of life by using Real Ingredients to Create Healthy Skin. Our Products are specially formulated with Proprietary Blends of Natural Plant Based Oils and Butters that have been sourced globally. Our Natural Bath & Body products are handcrafted in the suburbs of Atlanta, GA. We take pride in what we create and look forward to servicing you. 
*Due to the COVID-19 Pandemic, we are unable to accept returned items. Should you have any questions or concerns, please email us directly at hello@richskin.co and we'll get you squared away!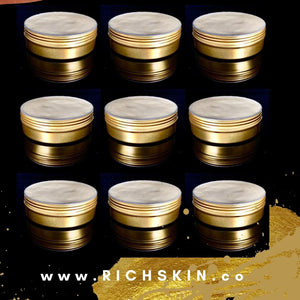 We Have Receipts...
"As a cancer fighter, the chemo treatments make my skin extremely dry. After using RICHSKIN, I threw everything else away! It's the only product that does not burn my skin. Other products have harmful chemicals that should be avoided. I'm a RICHSKIN customer FOREVER!" from T. Smith, RIH
"Let me tell you something!!! Babbbbbbyyyyy, this product is tried and true. My sons all have eczema but my baby has it and this body butter has been a life saver. Honestly, as a product chemist for several wellness products, this SOS Body Butter is top of the line. It's a far more elegant formulation than your standard body butters!" from Dr. M. Morris
"❤️Honey Mask❤️Looooove this mask!! And the body cream! They are everything!" from La W.
Keep Scrolling for more or Click here if you're ready to create your Own RICHSKIN® Experience!
We're Overwhelmed with love!
"Best butter ever! I'm not a body butter person. They are usually to dense and greasey for me. But the Rich Skin body butter is perfect! It makes my skin feel so good and hydrated. And it doesn't have the lingering heavy feeling." from Rochelle I.
"Bye bye dry skin! I struggle with dry skin and immediately noticed a difference once I moisturized and cleaned with the SOS body butter. Not to mention excellent customer service! I will be back soon!" from Shalika A.
"My Oily Sensitive Skin Loves This! So happy I found this mask. I have very oily sensitive skin that gets inflamed and irritated occasionally and this mask is the only thing that calms it down. Also when you wash off this mask, you're basically poreless. Skin will look like glass!" from Amber S.
We're not blowing smoke over here, our real ingredients create healthy skin! #loveyourself more ❤️